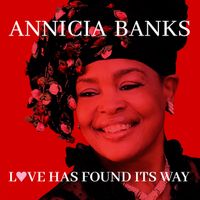 Raw Vue Music announces "Upfront," an EP featuring singer-songwriter, Annicia Banks. According to Richard Rowe, the company's primary objective "…to promote and publicize the works of both emerging and established artists…" is now fully underway with signings, productions and their trending EP, "Upfront."  Rowe is one of the founding partners and CEO of Raw Vue Music.  "Upfront" consists of seven tracks; five of which were co-written by Banks, another written by the late Bob Andy and a rework of the timeless Dennis Brown classic, "Love has Found its Way." "Upfront" is currently available on I Tunes and all other digital platforms for download and streaming. 
Annicia Banks is simply powerful! Her skilled treatment of the tracks and especially her augmentation of "Love has Found its Way" is phenomenal. Peppered with her unique flair, Banks manages to transform this masterpiece into her own without disturbing its fundamental essence. Additionally, Annicia has been one of the "go-to" supporting vocalists for many major acts over the years. She has worked with several renowned voices including Dennis Brown, Marcia Griffiths and Bunny Wailer.  "Upfront" is her first solo effort of this magnitude.  
Raw Vue Music is a New York City based, full service music entity that offers a range of services to both emerging and established artistes.  Manned by seasoned industry professionals, the firm houses a state-of-the-art studio that utilizes the latest technology for music production. Artist management, music publishing and strategic brand development are only some of the services provided to writers and performers.  
###